Cartoon Animator 4 (Was called CrazyTalk) is on sale for $69 Reg. $199.
https://stacksocial.com/sales/the-comple...mac-bundle
I have and use V1, 2 and 3 but haven't purchased 4. CA is a great program. However, it has a pretty big learning curve and can be expensive. Also, creating animated cartoon videos is by far the most time consuming of the videos methods I've used even after you get past the learning curve.
It can be expensive because you'll want to buy "action packs" (I think they're called that) which are premade animations that you add to characters to make them run, dance, fall down, etc. Without them you'll need to animate "manually". You'll probably also want to buy some extra characters which are usually $2-$12, so plan on these expenses.
I don't use the keyframe features very much and unless you plan on making complicated cartoons I wouldn't worry about them. Not sure if this version on sale has them or not...
I think the best skills to have going in is to be able to work with images. If you have basic graphic skills, like layers and transparencies, you can create and customize your own characters.
Just getting characters to speak is pretty easy. Add text or MP4 files and assign them to a character and CA will sync their speech, which is why it used to be called CrazyTalk.
It's a little more complicated to also have the characters show facical expressions. And even more complicated if you want them to talk, smile and run and the same time.
I generally just create and export GIFs with the characters having basic emotions and movement then import the GIFs for use in PPT. If I want to create a more complicated animation I'll create it as a short scene in CA then export as a MP4 to use in another program.
Here's an example. This cow is a CA character I purchased and exported as a GIF. I used a premade animation that's actually for a dog: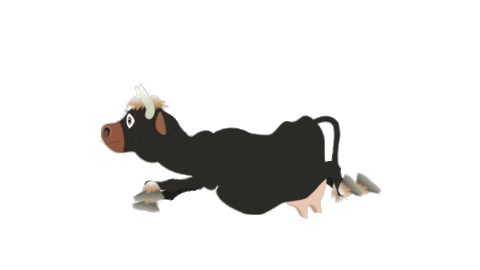 In PPT I added a static background of a pasture of sheep and put animated GIFs of blinking eyes over them. then imported the cow gif and added the movement across the screen animation in PPT.
I also created an GIF and Cowboy Clem running and added the additional movement across the screen and added the animated text in PPT to create this: